The Lithium Ion battery (Li-Ion) was invented by  Adam Heller  over 40 years ago and it still reigns supreme as the best hope for lightweight batteries. It runs everything from laptops to Teslas to power tools and mobile phones. Even though it has undergone some major innovations over its lifetime, battery technology still has a long way to go. Lightweight batteries are essential if we are going to have cars that can travel long distances on a single charge.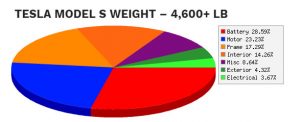 Currently the heaviest component of a Tesla Model S is the battery pack, comprising over 28% of the total weight of the vehicle. By comparison the motor and drivetrain only comprise 23% of the total weight. So if scientists can develop a lighter battery it would make a significant contribution in lightening the load and thus extending the range. Of course everyone wants lighter tools, laptops, and other consumer electronics. Another drawback to Li-Ion batteries is that there are safety concerns about them bursting into flames if they are shorted out. Some experts believe that if a major portion of cars used Lithium batteries we could run out of available Lithium in less than 20 years. So it is critical that we find alternative types of batteries that use inexpensive, common, lightweight materials. Today Tsvetana Paraskova of Oilprice.com looks at a new battery technology but the question is whether it will have what it takes to replace Li-Ion. ~ Tim McMahon, editor
Tech Guru Unveils New Battery To Challenge Lithium-Ion
The rise of electric vehicles and the quest to find solutions to energy storage for the renewables industry have created a breeding ground for tech experts to develop battery technologies.
Last week, Sun Microsystems co-founder Bill Joy and the company he currently backs, Ionic Materials, unveiled a solid-state alkaline battery design that they claim would be cheaper and safer than the lithium-ion battery.
"What people didn't really realize is that alkaline batteries could be made rechargeable," Joy told Bloomberg in a phone interview last week. "I think people had given up," Joy noted.
The three main possible applications of the new alkaline battery technology would be consumer electronics, electric cars, and energy storage for the power grid, according to the developers.
However, also according to Joy, the company just has the material, and the technology is not ready to go commercial right away. The rechargeable alkaline battery technology could be ready for commercial use within five years, Joy told Bloomberg, adding that Ionic Materials didn't have a factory to manufacture the tech.
The prototype designs have demonstrated up to 400 recharge cycles for the alkaline battery, and Ionic Materials believes that the number of recharge cycles could be tripled, the New York Times reports.
On the downside, apart from uncertain commercial future, is the fact that Ionic's first alkaline batteries would be heavier than the lithium-ion batteries today.
Alkaline batteries mostly use zinc and manganese.
Ionic Materials has made progress toward developing a design for an alkaline battery that would use cheaper aluminum instead of zinc, Joy told the NYT. Aluminum-based alkaline designs could potentially weigh less than lithium-ion designs and could be cheaper than the alkaline designs today, according to the NYT.
"They use an unusual electrolyte to come up with a battery that uses common cheap materials and is benign," Amory Lovins, the founder of non-profit sustainable energy research group Rocky Mountain Institute (RMI) — at whose summit Ionic unveiled its technology — told the NYT, referring to the company.
However, Lovins is cautious about forecasts whether the alkaline design would be such as to hit the mass market.
"Batteries are very difficult and I want to see what they have and what can be measured and proven and whether it will get to market," Lovins told the NYT.
Meanwhile, lithium-ion battery prices have dropped a lot over the past few years. According to Bloomberg New Energy Finance (BNEF), the lithium-ion battery pack prices dropped from US$1,000/kWh in 2010 to US$273/ kWh last year.
Large demand for lithium-ion batteries is predicted ahead, with BNEF expecting EVs sales to accelerate and make up 54 percent of new car sales by 2040. One of the main drivers of EV growth, according to BNEF, will be tumbling battery prices.
"The real take-off for EVs will happen in the second half of the 2020s due to plunging lithium-ion battery prices, which are set to fall by more than 70% by 2030," according to BNEF's Electric Vehicle Outlook 2017.
EVs adoption and the need to find energy storage solutions will charge the battery race in the years and decades to come. The key question here is, will the battery design breakthroughs turn from lab tests into viable mass market energy options?
This article originally appeared here and has been reprinted by permission.
Custom Search