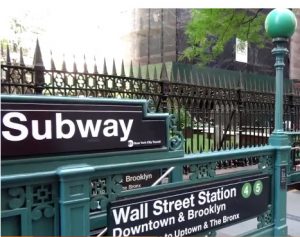 New York city is one of the most populous cities in the world and of course the home of the massive New York Stock exchange. But every workday all those people must get to work which means that just one of the many bridges i.e. the George Washington Bridge handles over 250,000 cars a day. But even more impressive is the New York City subway system which handles over 2.4 million commuters and tourists taking over 5.5 million rides every weekday. Way back in 1918, there were already 1 Billion rides annually. The New York City Subway is the largest rapid transit system in the world by number of stations, with 472 stations in operation. The system is also one of the world's longest. Overall, the system contains 236 miles (380 km) of routes, translating into 665 miles (1,070 km) of revenue track; and a total of 850 miles (1,370 km) including non-revenue trackage.  But what is truly interesting is how the development of the NYC subway parallels the New York Stock market. Elliott Wave International is a major proponent of "Socionomics" which tracks parallels in society and financial markets. Just consider the story (video below) of the NY City Subway 2nd Avenue line. ~Tim McMahon, editor.
Parallel Lives: The U.S. Stock Market and The New York City Subway
By Elliott Wave International
The NYC Subway and the Stock Market: See Amazing Parallel Trends and Turns For Yourself.
3 Videos + 8 Charts = Opportunities You Need to See.

Join this free event hosted by Elliott Wave International and you'll get a clear picture of what's next in a variety of U.S. markets. After seeing this videos and charts you will be ready to jump on opportunities and sidestep risks in some major markets. This free report (a $29 value) will present a unique outlook and give you a new perspective on the markets you won't get anywhere else.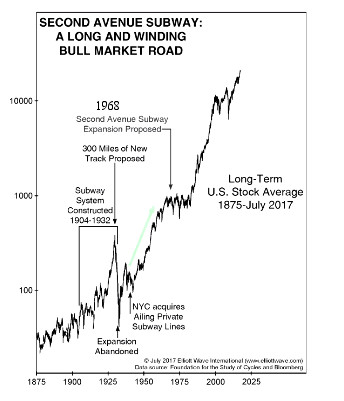 Note: The Verrazano-Narrows Bridge was completed in 1964. Four years before the 2nd avenue line was once again on the drawing board.
You might also like:
This article was syndicated by Elliott Wave International and was originally published under the headline Parallel Lives: The U.S. Stock Market and The New York City Subway. EWI is the world's largest market forecasting firm. Its staff of full-time analysts led by Chartered Market Technician Robert Prechter provides 24-hour-a-day market analysis to institutional and private investors around the world.
Custom Search