Gold and Silver are the "talk of the town" right now after making substantial gains over the last ten years and meteoric gains over the last year. But recently they have lost a bit of their luster as they began a long overdue correction. Is this the end for gold and silver or only a brief pause on their ride to the moon?
Anyone who has spent much time on this site is familiar with Robert Prechter's Elliott Wave. His fantastic team has been providing us with individual articles and links to some excellent information over at elliottwave.com.
Their experienced analysts keep a constant eye on the markets, and provide insights into trends that are available nowhere else. What could be better than having someone of that caliber to turn to in times of uncertainty?
Book of the Month: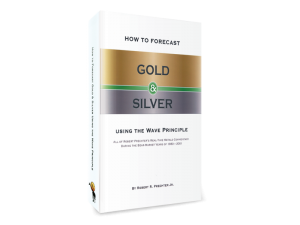 How to Forecast Gold and Silver Using the Wave Principle
by Robert R. Prechter, Jr.
How to Forecast Gold and Silver will show you what matters — and what doesn't — when you want to invest in precious metals.
Robert Prechter published specific gold and silver forecasts for 22 years during one of the metals' most historically baffling periods and correctly called nearly every major turn and trend during that time. And now he offers that entire body of work for public scrutiny and personal education.
In beautiful 8 1/2 x 11-inch hardcover fashion, How to Forecast Gold and Silver Using the Wave Principle revisits all of Robert Prechter's real-time metals commentary during the bear-market years of 1980-2001. Everyone from die-hard Elliott wavers to precious metal enthusiasts can benefit from its 500 pages packed with insight. More Info
More Books from Elliottwave
Conquer the Crash: You Can Survive and Prosper in a Deflationary Depression (Updated for 2009)
by Robert R. Prechter, Jr.
There's no question that Conquer the Crash foresaw and explained every chapter of today's financial crisis, years in advance – including the stock plunge, the housing collapse and subprime debacle, the liquidity crisis, the Fed's failures, and lots more. The unsettling part is how much of Prechter's book includes chapters about what is yet to come.
Updated for 2009, a CD-ROM supplement and free Readers-Only Webpage, ensures the book's message never goes out of date. More Info
Prechter's Perspective (2004)
by Robert R. Prechter, Jr.
The best way to get experience without risking your neck? Find a personal mentor who has the time and interest to teach you everything they know. Bob Prechter has spent three decades building his market wisdom, and he shares it with you here in an intimate Q&A.
Buy it Now for $27 More Info
Custom Search