Throughout Europe people are yearning to downsize their governments and bring control back to the grass-roots level. The leader in this area (with the most possibility of success) is Scotland with a referendum in September on whether to secede from the U.K or not.
Scotland-
Scotland has been fighting for independence from England ever since William Wallace (of "Braveheart" fame) fought his famous battle against England from 1296 -1305. It ultimately became part of England in 1707, by virtue of the "Acts of Union" with James VI of Scotland becoming James I of England and Ireland after the death of his cousin Elizabeth I.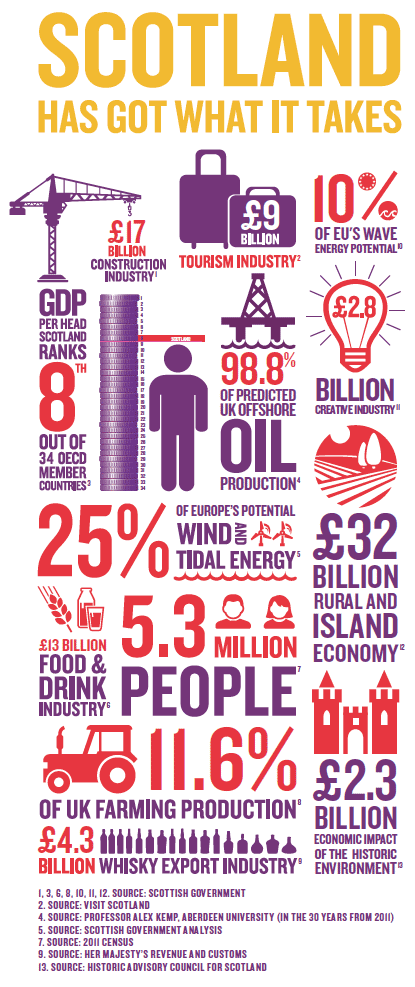 In 1979, the issue came to a referendum and the populace narrowly voted to secede.  But because England included a clause requiring a minimum of 40% of the populace to vote in favor the referendum, it had no effect. In January 2012, the UK Government once again opened the door to independence by granting the Scottish Parliament the power to hold a referendum, providing it was "fair, legal and decisive". The Scottish Independence Referendum (Franchise) Act 2013 was passed by the Scottish Parliament on 27 June 2013 and received Royal Assent on 7 August 2013.
A major concern of the Scots in the referendum is the economy. The question they face is, would Scotland be better off financially as a separate entity? It has been noted that Scotland's GDP per capita is actually bigger than that of France, due to the oil and gas revenues, and still bigger than that of Italy without the oil and gas. Scotland also produces more tax revenue per head of population than the UK average,  which is why many Scots feel that they are subsidizing the rest of England. And therefore many believe independence would be in their best interests. But a recent Poll of 1,019 adults aged over 16 in Scotland has found that only "28% intend to vote Yes in the September 18th poll (29% a month ago) with the No vote unchanged at 42%."
But another poll by Reuters says that 40% plan to vote for independence, 45% were against and 15% were undecided. The British government is trying to exert subtle influence by warning  that Scots could lose the pound if they vote to leave the UK. In Scotland, everyone over the age of 16 has the right to vote and if a majority vote in favor, Scotland will become an independent country on March 24, 2016. And if Twitter is any indication the "YES" campaign in favor of independence is winning.  "These accounts, which show the Yes campaign with around 28,000 followers and Better Together at 16,000 followers are primarily used for broadcast purposes, to let the world know what the campaign is doing and what its views are."
Catalan, Spain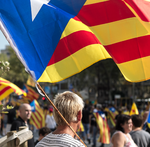 Another major move for independence is the Catalan region of Spain. However, talks of independence aren't as going as smoothly there.  according to the U.K Telegraph Spain's parliament has rejected Catalan's right to even vote on the issue. Catalan lost its home rule institutions and laws at the end of the War of Spanish Succession in 1714. Catalonia separatism gained traction again in the early 20th century, when some political parties began fighting for full independence of Catalonia from Spain. By 1931 they won elections and were able to recover its medieval home rule institutions. However, beginning in 1938  the Franco regime began oppressing Catalonia and once again abolished home rule, and thousands fled the country. Home rule was restored in 1977, and those calling for full independence have had their parliamentary group since 1980.
With the recent financial difficulties emerging in Spain Catalonia's move for independence has once again moved to the forefront. On September 11 2013, over 1 million Catalans participated in a massive demonstration in favor of independence for Catalonia.  Catalonia, represents roughly a fifth of Spain's GDP and has a population of 7.5 million out of 47 million. A 2013 poll showed 54.7% of Catalans in favor of independence,  22.1% against and 15.7% abstained.
Venice, Italy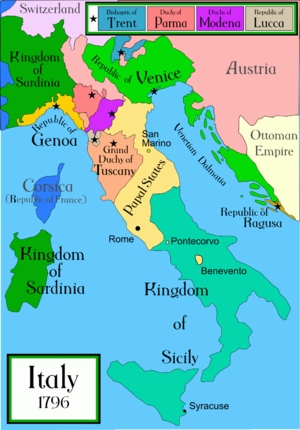 The third European region vying for independence is not high on the world news radar but Venice is more than just a tourist attraction. Venice originally gained its independence from the Byzantine empire around 803 AD although it remained nominally Byzantine in subservience. By the Middle Ages it had become wealthy through trade with Europe and the "Mediterranean lands east of Italy" called Levant. At the very beginning of the Crusades Venice supplied 200 ships for the war effort and supplied many more from their national shipyard which is now known as the Venetian Arsenal. By the end of 15th century, with 180,000 inhabitants, Venice was the second largest city in Europe after Paris and probably the richest in the world. Around this time even  Leonardo da Vinci spent some time there.
But by 1866, Italy swallowed Venice. And now after almost 150 years many natives of the area still consider themselves Venetian rather than Italian. And now the northern region of Venice is seeking its independence. In March, they held a non-sanctioned unofficial referendum with 56% of the registered voters participating. Approximately 54% of the vote came back in favor of independence. But the Italian government in Rome said the vote was unconstitutional and has begun cracking down on separatists, arresting 24 and charging them with "terrorism, fabrication of weapons of war and subversion of democratic order."  Apparently they welded metal plates to a tractor allegedly creating a "tank" and were planning to deploy the "tank" in St. Mark's Square in Venice on the eve of European parliamentary elections.
Like Scotland Venice feels it isn't getting its fair share of tax dollars, since it pays €70 billion in taxes but receives only €49 billion in services. And with tax rates above 60% the people are protesting the unfair burden. Some have claimed, "The bloated Roman central government is out of touch with its people, leaving citizens with no choice but to return to the independent republics they once were."
Other areas are also trying to flee the sinking ship that is Italy with Police also seizing weapons in raids linked to other secession movements in Piedmont, Lombardy and on the island of Sardinia while protesters for Sicilian independence marched on Palermo.
Custom Search