There's no doubt that cars are safer today than they used to be. In 1970 there were 25 automobile fatalities per 100,000 people in the United States according to Wikipedia. In 2014 that number had shrunk to 10 per 100,000 even though the number of miles driven increased by almost 300%. Technological advances along with stricter government regulations have combined to contribute to the increase in car safety. Here are some of the recent innovations that have helped.
Air Bags

According to the National Highway Traffic Safety Administration (NHTSA), Frontal air bags have saved 25,782 lives between 1987 and 2008. High-tech "crash sensors" collect the data necessary to make decisions about air bag deployment. They measure how quickly a vehicle slows down in a frontal crash or accelerates to the side in a side-impact crash. But they have to be able to detect severe or panic braking so they don't cause an air-bag to deploy except in actual crashes. Frontal crash sensors may be located in the front of the vehicle near the engine, in the passenger compartment, or sometimes in the electronic control unit (ECU). Side-impact crash sensors may be located in the ECU, the door, the doorsill, or between the front and rear doors. Some vehicles are equipped with a sensing system designed to detect the onset of a rollover crash. Rollover crash sensors may be located in the ECU or at the vehicle's center of gravity.
Rearview Cameras
The NHTSA has passed regulations requiring rear visibility in all vehicles under 10,000 pounds by May 2018. Children are often the most vulnerable to accidents that involve backing up as they are often playing behind vehicles and are short enough to not be seen. The NHTSA says that there are 210 fatalities on average from backing up and 31% of them are children 5 or under. Although many manufacturers are installing this technology already, the NHTSA regulation will require it. These backup cameras will increase the safety of children and others.
Forward Collision Warning System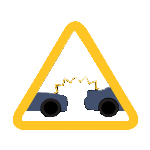 A forward collision warning (FCW) system is an advanced safety technology that monitors a vehicle's speed, the speed of the vehicle in front of it, and the distance between the vehicles. If vehicles get too close due to the speed of the rear vehicle, the FCW system will warn that driver of an impending crash. It's important to note that FCW systems do not take full control of the vehicle or keep the driver from operating it.
FCW systems are already an option on many new cars, SUVs and trucks.
Lane Departure Warning System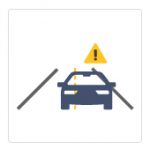 A lane departure warning (LDW) system is an advanced safety technology that alerts drivers when they unintentionally drift out of their lanes without a turn signal. It's important to note that LDW systems do not take full control of the vehicle or keep the driver from operating it.
LDW systems use a camera to monitor lane markings and detect when a vehicle is drifting out of its lane of traffic. When it detects that a vehicle is veering out of its lane, an audio, visual, or other alert warns the driver of the unintentional lane shifts so the driver can steer the vehicle back into its lane.
Autonomous Vehicles and Auto Braking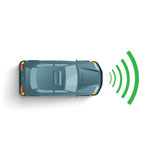 Automatic emergency braking (AEB) systems detect an impending forward crash with another vehicle in time to avoid or mitigate the crash. These systems first alert the driver to take corrective action to avoid the crash. If the driver?s response is not sufficient to avoid the crash, the AEB system may automatically apply the brakes to assist in preventing or reducing the severity of a crash. The National Highway Traffic Safety Administration believes these technologies represent the next wave of potential significant advances in vehicle safety.
The US DOT has issued a federal policy for testing and regulating autonomous cars. As self-driving cars become a reality it will be important for the safety of the families driving them. The policy sets a 15 point safety assessment so there are clear expectations for manufacturers. The policy also discusses new tools that will be necessary for federal employees to oversee and assist the introduction of these vehicles to the road. There are currently a variety of regulations in individual states, but this new policy lays the groundwork for the federal regulations that will be necessary.
Vehicle-to-vehicle Communications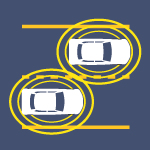 New Vehicle-to-vehicle (V2V) technology allows equipped vehicles to wirelessly exchange information about surrounding vehicles' speed and positions to help drivers better avoid crashes. V2V uses dedicated short-range communications (DSRC), a variation of Wi-Fi tailored for moving vehicles. This technology allows vehicles to rapidly broadcast and receive messages (up to 10 times per second) so there is a 360-degree "awareness" of other vehicles in the proximity. The current proposed design for the V2V system employs strong security and does not exchange or record a consumer's personal information, nor does it track a vehicle's movements, which helps protect a driver's privacy.
Vehicle Cybersecurity

Vehicle hacking is when someone attempts to gain unauthorized access to vehicle systems for the purpose of retrieving driver data or manipulating vehicle functionality. Vulnerabilities may exist within a vehicle's wireless communication functions, within a mobile device – such as a cellular phone or tablet connected to the vehicle via USB, Bluetooth, or Wi-Fi – or within a third-party device connected through a vehicle diagnostic port. The same way computers need to be protected from hacking, vehicles must be protected from malicious cyber-attacks, unauthorized access, damage, or anything that might interfere with normal functions.
Five-Star Safety Ratings

One thing that many families depend on when deciding on a safe vehicle is the NHTSA five-star safety rating. The NHTSA has made many changes that have increased the requirements to achieve the coveted safety rating. Vehicles must pass a variety of crash tests, have certain safety features and must pass a variety of tests showing safety for the occupants.
Keeping the requirements rigorous allows families to trust any car that has passed these tests with a five-star rating. Dealerships are always willing to show you the cars with this coveted rating if you ask, so make sure you do.
Quiet Car Safety Standard

Another recent regulation is an NHTSA regulation that adds a requirement for an audible sound in electric/hybrid vehicles that will alert pedestrians to the vehicle. Many hybrid vehicles are silent at low speeds, and their fully electric counterparts can be silent at any speed. Adding a more audible presence to these vehicles could prevent as many as 2,400 pedestrian injuries.
All of these and other regulations combine to make the road a safer place.
Custom Search