A Brief History of Money and Credit
From earliest times a variety of objects have been used as mediums of exchange… everything from beads and shells to precious metals like gold and silver.
In order to fund the American Revolution Congress authorized the issue of paper currency known as Continental currency. Unfortunately the fledgling government was mostly bankrupt and the currency inflated rapidly and led to a saying "not worth a Continental".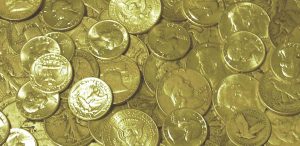 In 1792, as the government got itself on a more stable footing the United States established a "bimetallic standard" meaning that both gold and silver would be considered legal tender at a ratio of 15 ounces of silver to 1 ounce of gold.
Unfortunately, sometimes the government had difficulty maintaining this ratio and had to resort to other measures. During the Civil War it once again resorted to printing paper and Confederate Currency suffered much the same fate as did the Continental.
In 1933, President Franklin Roosevelt took the U.S. off the gold standard and declared it illegal for U.S. citizens to own gold. Surprisingly, it was only a year later that American Airlines and the Air Transport Association developed the forerunner to a credit card called the Air Travel Card that allowed passengers to "buy now and pay later" (but only for air travel).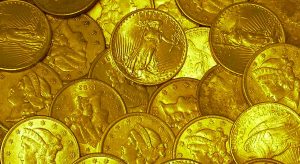 According to Wikipedia, "By the 1940s, all of the major US airlines offered Air Travel Cards that could be used on 17 different airlines. By 1941 about half of the airlines' revenues came through the Air Travel Card agreement. The airlines had also started offering installment plans to lure new travelers into the air."
In the 1950's along came more generalized "charge cards" like Diner's Club, Carte Blanche and American Express. These still weren't like modern "Credit Cards" in that you weren't allowed to run a balance but instead had to pay the total amount every month (American Express still uses this model today).
In 1958, BankAmericard and Master Charge (eventually MasterCard) established a system whereby card holders had a line of credit that could be accessed through their cards. However, before the system was computerized, paying with a credit card was a cumbersome process. When you presented your card the merchant had to call your bank who in turn called the credit card company who manually looked up your record and determined whether your account was current or not before approving the charge. Because this process was time consuming and cumbersome many merchants began to accept routine charges from known customers without going through the verification process. To aid in the process credit card companies distributed books to merchants with lists of stolen credit card numbers. The merchants  were supposed to check cards against the list before accepting them, and verify the signature on the charge slip against that on the card.
In 1973, the process was computerized and the time to process charges was reduced to less than 1 minute.
Debit Cards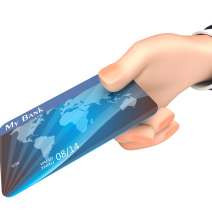 Debit cards are processed through the same system as credit cards but that is where the similarity ends.  Unlike a credit card, rather than being charged against a line of credit, with a debit card the money comes directly from the user's bank account when performing a transaction.
There are two forms of debit card processing, i.e. "Online" and "Offline".  Online debit cards require electronic authorization of every transaction and the debits are reflected in the user's account immediately. If there is no electronic connection there can be no transaction.
Offline debit cards are processed in batches (often at the end of the day) and so may not be reflected in the bank balance for 2-3 days.
Prepaid Debit Cards
If you don't have a bank account it is difficult to get a credit card and impossible to get a debit card since there is nowhere to debit from. To allow people without accounts access to electronic payments the banking industry developed "Prepaid debit cards". These cards can be "loaded" locally and then used just as one would use a debit card until the balance is exhausted or recharged. These cards are extremely popular in the "less developed" countries of the world. Some parents also use these as ways of giving their kids spending money without risking a credit catastrophe. Governments are also using them to distribute tax refunds and "food stamps" i.e. SNAP/WIC. in this case they are called Electronic Benefits Transfer (EBT) cards but they work the same way they are just loaded by the government.
Prepaid debit cards have some advantages and disadvantages:
Advantages
The advantages of prepaid debit cards include being safer than carrying cash, worldwide functionality due to Visa and MasterCard merchant acceptance, not having to worry about paying a credit card bill or going into debt, the opportunity for anyone over the age of 18 to apply and be accepted without regard to credit quality, and the option to directly deposit paychecks and government benefits onto the card for free. And if a user has doubts about online security, using a prepaid debit card for online purchases protects their normal credit card from risk.
Risks
If the card provider offers an insecure website for letting you check the card's balance, this could give an attacker access to the card information. If you lose the card, and have not somehow registered it, you likely lose the money. If a provider has technical issues, the money might not be accessible when you need it. Some merchant's payment systems have difficulty accepting prepaid debit cards. And some systems put a "hold" on a large chunk of your balance until well after the transaction has cleared.
Although the four largest bank card issuers (American Express, Discover Card, MasterCard, and Visa) all offer debit cards, there are many other types of debit card, each accepted only within a particular country or region, for example Switch (renamed: Maestro) and Solo in the United Kingdom, Interac in Canada, Carte Bleue in France, EC electronic cash (formerly Eurocheque) in Germany, UnionPay in China, RuPay in India and EFTPOS cards in Australia and New Zealand.
PayPal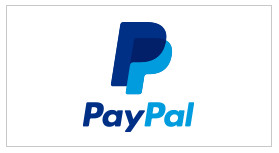 PayPal was established in December 1998 as "Confinity" and in March of 2000 it merged with X.com an online banking company founded by Elon Musk. The X.com company was then renamed PayPal in 2001, and acquired by eBay in 2002. It became the primary payment method for eBay transactions.  In 2007, PayPal announced a partnership with MasterCard that led to the development and launch of the PayPal Secure Card service, a system that allows customers to make payments on websites that do not accept PayPal directly by generating a unique, single-use MasterCard number for each checkout. In 2015, PayPal was "spun-off" from eBay and a few months later acquired digital money transfer service Xoom.
Digital Money Transfer
There are a variety of ways to transfer money anywhere around the world these days. Interbank transfers can be accomplished via the Society for Worldwide Interbank Financial Telecommunication (SWIFT) system or through the Automated Clearing House (ACH) system. These are typically called "wire transfers".
Outside the traditional banking system are companies like "TransferWise" that allow you to transfer money from one country to another. This is accomplished by matching transfers from someone in the destination country with someone who wants to send money in the opposite direction. So if you want to send money from the U.S. to Canada there is probably someone who wants to send money from Canada to the U.S. as well, so rather than using the banking system and sending money across borders, TransferWise simply moves some money from person #1's  account in Canada to person #2's  account in Canada and an equal amount from person #2's  account in the U.S. to person #1's  U.S. account.  This is done seamlessly so the end users don't know anything about the other users and the fees are significantly less than using a traditional wire transfer.
BitCoin
Bitcoin is a cryptocurrency and a digital payment system invented by an unknown programmer, or a group of programmers, under the name Satoshi Nakamoto. It was released as open-source software in 2009. The system is peer-to-peer, i.e. transactions take place between users directly, without an intermediary and without the oversight of the government so there is no opportunity for government intervention and/or inflation. There is a system of computerized "bitcoin mining" so the supply can grow but with defined limits so if demand increases faster than supply, the value of bitcoins will also increase. Mining requires a great deal of computing power so it is not easy to create additional bitcoins.
Digital Wallets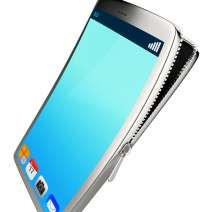 In recent years a variety of companies have begun to offer Digital Wallets to handle everything from Bitcoin transactions to debit transactions from your local bank. Smartphones are becoming the new wallet alternative.
According to Wikipedia:
A digital wallet refers to an electronic device that allows an individual to make electronic transactions. This can include purchasing items on-line with a computer or using a smartphone to purchase something at a store. An individual's bank account can also be linked to the digital wallet. They might also have their driver's license, health card, loyalty card(s) and other ID documents stored on the phone.
One example of a digital wallet provider is Paysafe that offers the paysafecard® (a prepaid card), payolution® (pay later solutions for the payment of invoices, instalment payments and monthly invoices within Germany, Austria and Switzerland (the D-A-CH region), the Netherlands and the UK.), NETELLER® and Skrill®.
They also offer payment solutions for merchants allowing them the ability to accept payments in multiple currencies, through a variety of payment methods including direct debit, bank transfer, ApplePay, Maestro, iDeal, giropay, S€PA, Visa, MasterCard, PayPal, Skrill, UnionPay and their own PaySafe card.
Paving the Way for eCommerce
All of these systems paved the way for the advent of eCommerce. Imagine trying to buy something online if all we had was physical currency. It would effectively be impossible to process electronic transactions without these modern digital currency alternatives. This area is bound to explode in coming years as the desire for more electronic transactions collides with a desire for more electronic privacy.
You might also like:
Custom Search