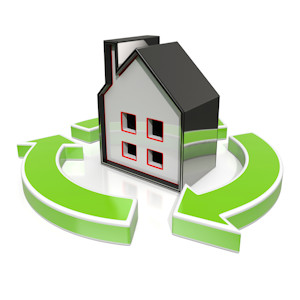 From a builder's point of view, the housing market has always been cyclical from boom to bust and back to boom again. During boom times building, renovation and house flipping are all big business but during times of economic recession the demand for houses falls as fewer people are in a position to buy a house. In rough economic times the number of "family units" decreases as children move back in with parents, friends share apartments etc. But as the economy improves people like their space and so as they can afford it, they get their own apartments or houses. But in the longer term view the increasing population has a positive effect on housing demand and thus on prices.
As we can see from the chart below during the 1970's housing prices started out flat and then rose a bit sharper but the two recessions flattened out prices for a while and then prices rose fairly sharply again in the late 1980's and then they were relatively flat through most of the 1990's but just before the end of the millennium prices went crazy leading to a massive mania where the prevailing "wisdom" was that "housing prices could only go up." Other contributing factors in the rising housing prices and the housing bubble formation were artificially low interest rates and Federal Government programs designed to allow people to buy houses whether they could actually afford them or not.
Well, whenever the belief is that prices can only go one way, they invariably go the other. So, in June of 2007 housing prices peaked and we experienced one of biggest housing market crashes in history with people literally giving their houses back to the bank because they couldn't afford to keep them. These foreclosures caused massive downward pressure on overall housing prices and it took roughly 4 ½ years (until January of 2012) for housing prices to find their bottom and begin rising again. We noted this turn in the trend in our 2013 article Update on the Real Estate Market.
In the chart below we see that the overall trend has been up but there have been blips along the way. We can also see that the housing crash brought housing prices back to very close to the support line but that prices are once again higher than average.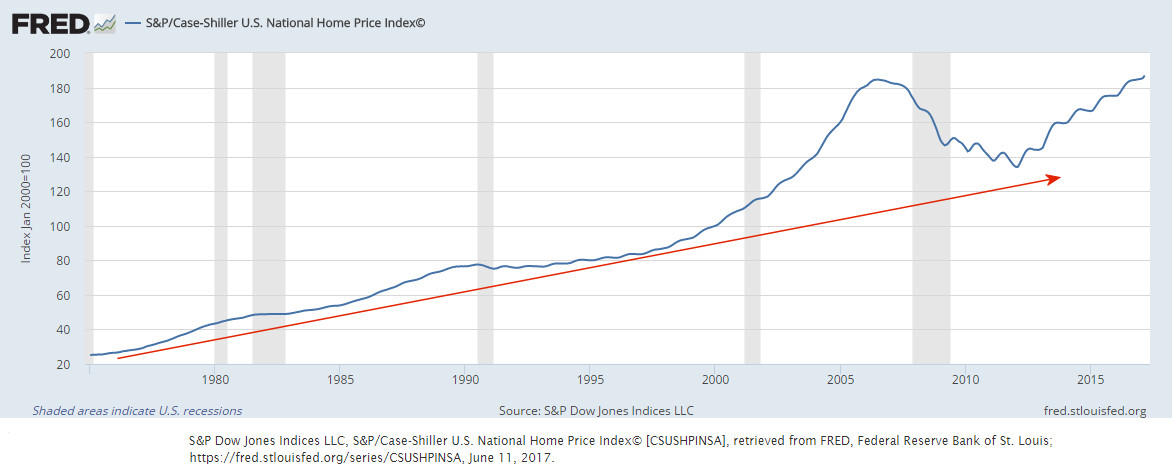 Note: Although it is outside the scope of this article, if housing prices are adjusted for inflation the chart would be MUCH flatter. See Inflation Adjusted Housing Prices for more info.
It now appears that the housing market is entering the boom phase once again. Builders are back, the massive glut of oversupply is gone and people are once again warming to the idea that houses are a good investment. With the popularity of HGTV shows like "Property Brothers", "Flip or Flop" and America's cutest couple Chip and Joanna's "Fixer Upper" people are coming to see the financial advantages of "Buying the worst house in the best neighborhood".  So today we will look at how house flipping is becoming a national obsession. ~Tim McMahon, editor
5 Ways House Flipping Is Changing the Way People Buy Homes
Renovating older homes to improve their value and functionality and then flipping them for a profit is changing the real estate market in incredible ways. At one time, it was common for sellers to spend many weeks and hundreds or thousands of dollars fixing up their own homes before selling them on the open market. After all, most buyers wanted to buy homes that they could settle down in without hassle. Because of the incredible interest in house flipping today, however, sellers no longer need to do this to attract a buyer. In fact, some buyers are only interested in looking at older, outdated homes. This new trend is changing the real estate market and signs saying "We buy ugly houses" are popping up everywhere.
Buyers Are Increasingly Interested in Older Homes
At one time, only a select, limited group of buyers were interested in older homes. Older homes lacked the functionality, style and good condition that newer homes had, and many buyers saw older homes as a giant hole to throw money in, that would take up all of their free time for months (or years) to come. This idea was embodied by Tom Hanks and Shelley Long in their hit movie The Money Pit. However, because if done right, flipping houses can be a highly profitable activity, there is an increased demand in the marketplace for low-priced, older homes. Plus renovating an older home is seen as the ultimate recycling project and can be a source of "sweat equity". Of course, house flippers also provide a service to not only the people they buy the house from but also to the ultimate buyer that they sell to. The final owner gets a refurbished house with modern styling and functionality in a nice neighborhood, often closer to work and entertainment.
Buyers See Homes with Dollar Signs
Buyers have traditionally looked at homes as a long-term investment as well as a place for their family to settle down in rather than in terms of a quick house flip. They sought a home in a good neighborhood with quality schools, and the ideal home had plenty of room for their family to feel comfortable in over the years. Because of the popularity in flipping homes now, many buyers are once again catching the fever popular in the early 2000's and seeing houses with profits in mind. They think about how low they could negotiate the sales price, how much repairs will cost and how much money they can make when they sell the property. Older homes are now seen as short-term cash cows.
Financing Needs Are Changing
A 30-year home mortgage continues to be the most traditional type of financing available. However, hard money loans are increasingly common with house flippers. These are high interest rate, short term loans with easy qualifications and a fast closing. Generally, the "banker" isn't a bank at all but an individual or small group that is looking to get better returns on their money. They can come up with the cash almost instantly and generally have standing arrangements with the flippers, loaning them money over and over again. Hard money loans are ideal for flippers who need access to funds to purchase a home in poor condition, and some of these loans even provide funds for the renovations. Hard money loans have less paperwork, faster turn around and fewer closing costs. But these come with risks as well, as we see in "Flip or Flop" Tarek and Christina are always rushing to get the job complete because the carrying costs can eat them alive if the job takes longer than projected. So although a "hard money loan" is quick and convenient if the market turns against you and you can't get a quick sale, the proliferation of hard money loans can be a factor in accelerating a crash.
Some Buyers Are Paying With Cash
While some house flippers are using hard money loans with a high interest rate to purchase a fixer upper, others are using their own cash. With a cash purchase, the transaction can typically close within a week or less compared to a typical mortgage which can take 4-6 weeks. This is speeding up the overall transaction time substantially and changing the way buyers purchase homes.
Buyers Can Get Into Markets They May Not Otherwise Be Able to Enter
While some buyers purchase fixer uppers with the idea of house flipping, others decide to hang onto their renovated property. Some may use these properties as income-producing investments (i.e. rentals). Others may use them as a primary residence. Because older homes can be purchased at a lower price and fixed up in an affordable way (pay as you go), many people are using the flip mentality to enter a market or neighborhood that they otherwise may not be able to afford living in.
It is difficult to flip through the channels on your TV and not see at least a couple of shows about flipping houses and making a fortune in the process. There are even online courses like Success Path that teach you all about how flipping is done. This is an incredible phenomenon that is sweeping across the country, and many people have attempted to flip a home or have been thinking about doing it in the future. This trend will likely continue to impact the housing market in the years to come.

You may also like:
Recommended by Amazon:
Image Courtesy of BlogPiks.com
Custom Search