The Starbucks coffee shop franchise has developed into a corporate juggernaut and has set the standard for coffee retailers across the globe. With over 16,000 store locations, Starbucks grossed over $10 billion in 2011. They continue to grow and serve over 40 countries. There is no easy answer to how this company has been able to achieve such global, fiscal success in its relatively brief lifetime.  However, a few factors throughout its history have clearly enabled Starbucks to excel above all other competitors and achieve domination over other coffee retailers.
Starbucks History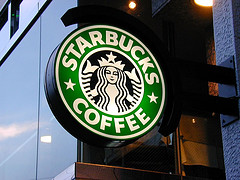 From its inception, Starbucks existed as a culmination of ideas and input from a collective body. Three friends, Jerry Siegel, Zev Siegel and Gordon Bowker, founded the first store in 1971. They used their experience as restaurant owners; instead of a typical coffee and tea store, they envisioned Starbucks as a premium quality retailer, offering unique and high-end products. Their idea proved successful and they opened six new locations across the state of Washington over the next few years. In 1987, Howard Schultz purchased the company for $3.8 million and incorporated his own influence into the business. After visiting the social coffee shops of Italy, he developed the social, coffee-drinking trend with which we associate Starbucks today.
Personal Coffee
When CEO Schultz was asked about the company's success, he attributed it to the personalization that Starbucks offers compared to the standard drinks of store retailers. Schultz stated, "Our product is not sitting on a supermarket shelf like a can of soda. Our people have done a wonderful job of knowing your drink, your name, and your kids' names." In other words, they treat customers like people rather than simply ATM machines.
Coffee Variety
Starbucks offers its customers a variety of coffee flavors and packages to which no other coffee retailer can match. For example, Starbucks has the 18-Count Variety Pack on its menu. This package contains 6 different blends and results in over 18 different variations of flavors after coffee brewing. This sort of flavor ingenuity resonated in foreign countries, whose restaurant menus are typically much smaller than American restaurant menus. They like options. For instance, Starbucks has over 500 locations in China and all of these locations are more profitable than U.S. counterparts.
Social Image
Starbucks provides a homey, social environment for its customers. People can come to Starbucks to study, talk with friends, or read. The décor usually consist of plenty of tables, chairs, and a friendly atmosphere. Starbucks pioneered the idea of  free Wi-Fi and always has plenty of electrical outlets for laptop chargers. These conveniences establish a trendy atmosphere consistent with the expectations of social meeting places.
Transcendental Values
Schultz actually published a book explaining why his company has been so successful over the years. The book, entitled Pour Your Heart Into It: How Starbucks Built a Company One Cup at a Time emphasizes transcendental advantages that Starbucks has over its competitors. He makes an argument that company values and employee relationships keep customers coming back for more.
From Amazon:
See Also:
This article was composed by TJ Barea, a freelancer based in the metro area of Sacramento; along with Starbucks business strategies he is also quite familiar with single serve espresso machines and other such devices.
Custom Search