International Trade is a major component of United States commerce. According to the U.S. Census, total US trades for 2012 through November amounted to $3.51 trillion with total US imports amounting to $2.09 trillion and exports amounted to $1.41 trillion resulting in a quite lopsided balance of trade.
Top Trading Partners
Imports: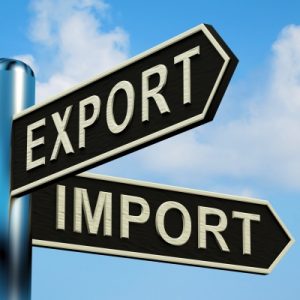 The top 15 trading partners accounted for 75.3 percent of total US imports, amounting to $1.57 trillion while the next 15 trading partners only accounted for 13.6% of imports, amounting to only $0.29 trillion. Total US imports increased by around 3.7 percent when compared with the first 11 months of 2011.
Exports:
Exports increased by a bit more at 4.6 percent in the same timeframe. The top 15 US trading partners account for 71.7 percent of total exports, while the next 15 partners account for 8%percent.
Number 1 Trading Partner- Canada
Canada is the top partner with the US, trading a total of $568.5 billion in 2012 through November, accounting for 16.2 percent of total US trade. Canada is also tops the US export list, totaling $270.1 billion. Canada accounts for 19.1 percent of total US exports. Exports to Canada increased by 4.6 percent when compared to 2011 while imports from Canada increased 3.3 percent.
Number 2 Trading Partner- China
China is next in total US trades, accounting for 14 percent of the US total; amounting to $491 billion in 2012 through November. China tops the US export list, accounting for 18.6 percent of total US exports, amounting to $390.8 billion in 2012 up through November.  Imports from China increased by around 6.6 percent from 2011 while exports increased by around 6.4 percent.
Number 3 Trading Partner- Mexico
Mexico is the third largest partner to the US, accounting for 13 percent of total trades, amounting to $457.3 billion in 2012 through November. Mexico is the third largest partner for both imports and exports.  Imports from Mexico increased by 6.6 percent from 2011 while exports to Mexico increased by 9.8 percent.
Import and export growth rates for these three regions were significantly lower in 2012 in comparison to growth from 2010 to 2011. It's reasonable to expect these trade and export totals to increase slowly as demand, shipping technologies and transportation logistics continue to improve. The growing consumer populace in China may bode well for premium American exports as well.
The top 15 US total trading partners in order:
Canada
China
Mexico
Japan
Germany
United Kingdom
South Korea
Brazil
Saudi Arabia
France
Taiwan
India
Netherlands
Venezuela
Italy
There are a few other top trading partners that remain unchanged from year to year besides Canada, Mexico and China. Imports from Venezuela decreased 11 percent to $35.69 billion, while export increased 41.6 percent to $15.9 billion. Exports to the United Arab Emirates increased 43.8 percent to $20.24 billion while imports declined 3.2 percent to $2.1 billion for the first 11 months of 2012. This was the highest export growth among the top partners.
Other countries with high growth in exports included Russia, Saudi Arabia, Chile and Australia as well. It's also noteworthy that many of the top partners are located by Asia or in Europe. As these countries continue to recover and develop, the US trade prospects should continue to improve. Exports for the US should also continue to improve as the US becomes the leading oil and natural gas producer on the planet within the next five years.
See Also:
Books:
Resources:
This article was created by Brad Webster, a freelancer who focuses on international business, finance, commerce and trade, transportation and other related issues.
Image courtesy of Stuart Miles / FreeDigitalPhotos.net
Custom Search